A few weeks ago, I was randomly messing around on the Internet, and I came across a website where you applied for audience tickets. I thought nothing much of it, but applied for everything anyway. The Graham Norton show, Have I Got News For You, Mock the Week - anything with an audience, and some things that I don't even like. I was quite surprised to get an e-mail saying I had four tickets to see The Last Leg - especially because it's a show I actually quite like!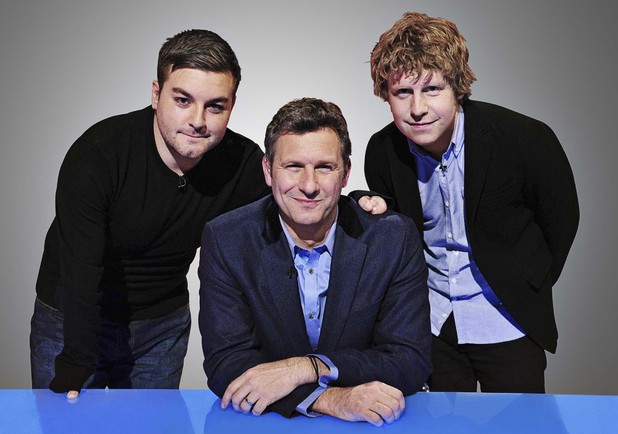 So, me and three friends headed down to Riverside Studies in Hammersmith last Wednesday to see it. The queue outside the studio was insane when we got there, but we were able to jump the front because we had priority tickets from my application. It would seem a lot of people queue up outside the studios in the hope of getting a space - there's no way the studio could have filled everyone that was waiting outside.
We were rushed in (largely thanks to me being late!) and took our seats. Luckily we were sat in an area where we wouldn't be on TV all the time (I can't even take a selfie, I wasn't quite prepared for that!). We had to get there at nine, but the show didn't go out live until ten. But, we were definitely entertained by the guy who did the warm up act, and although it wasn't the kind of thing I would have expected to find funny, it really tickled me - somehow despite the size of the studio he managed to make the whole thing feel really intimate.
The main host, Adam Hills, came out a lot earlier than I thought too (I thought it would kind of be a, just before airing kind of thing) and he also had a chat to the audience. Then Josh Widdicombe and Alex Brooker came out and they filmed the promos for Channel 4 and the start of the show - one with music for Channel 4 and one without for the Australian screening of the show (apparently ABC in Australia can't afford the same music for use as the theme!).
sorry for the instagram photo - even that was a little naughty!
It is odd when it all goes live and you're being told to clap etc, not that you wouldn't anyway! I found the whole show hilarious, probably more than I would have done watching on TV, but I imagine the atmosphere has something to do with that. The guest was Russell Brand, and I don't find him too funny but he didn't annoy me too much, thankfully!
I was quite sad when it finished! I had a brilliant night, and the best thing was that it was all for free. It was definitely worth applying for the tickets, and although you could just queue outside the studio, I don't think I'd risk that! I reckon if I lived in London I'd never stop applying for tickets.